Manthey Outdoors
On the weekends, I hike. Usually I hike within a few hours drive of where I live, which means the Adirondacks of New York or the Green Mountains of Vermont. I also spend a week in a National Park each year, ranging from Maine to Alaska. My goal is to someday visit all of the scenic National Parks, of which there are around 55. If I accomplish that, then I'll visit them all again in a different season.
There is a brief description of each of the National Parks I have visited, along with some of my more common locales. All of the photographs were taken by myself and are copyrighted. I also have six of my journals available, from my Western Erie Canal canoe trip, from my Champlain Cruise canoe trip, from my Eastern Erie Canal canoe trip, from Wrangell-St. Elias National Park, from Isle Royale National Park, and from Katmai National Park, all complete with pictures.
---
| | |
| --- | --- |
| | Western Erie Canal Canoe Trip |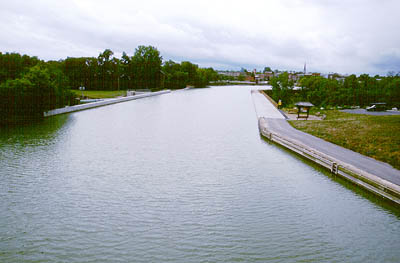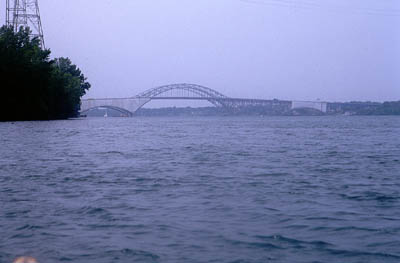 Travelled September, 2002. This year I canoed the western half of the Erie Canal. I started in Syracuse and canoed to the Niagara River, nearly to Buffalo. I averaged 30 miles a day except for the final day.
This section of the canal has a more noticable current than the eastern half, and in the Niagara River I encountered strong contrary winds. Of special note are Locks E-34 and E-35, which must be travelled to be fully appreciated.
Part of my journal is on-line.
---
| | |
| --- | --- |
| | Champlain Cruise Canoe Trip |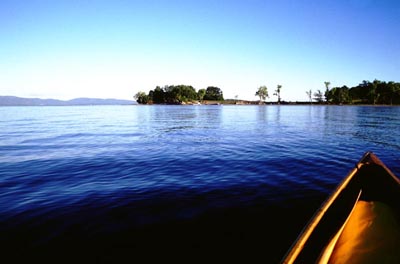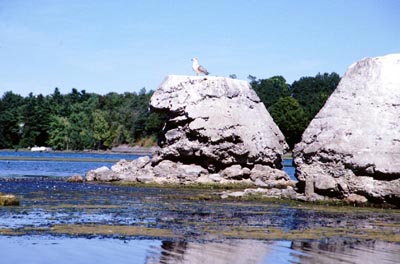 Travelled September, 2001. I have long wanted to take an extended canoe trip on Lake Champlain. I started in Waterford, just across the Hudson River from where I live, and canoed north, up through the Champlain Canal, all along the Vermont shore of Lake Champlain to Missisquoi Bay, back down and over to the Richelieu River and on up to Ile aux Noix in Quebec, then back to Cumberland Bay.
This was an 11 day trip. I mainly stayed in campgrounds, though I did camp at one lock and in a few other spots. I often had contrary winds. The trip included both my longest day of canoeing ever and also the largest waves I have ever dealt with (or hope to).
Part of my journal is on-line.
---
| | |
| --- | --- |
| | Troy to Lake Ontario Canoe Trip |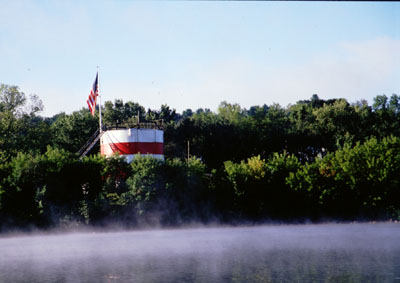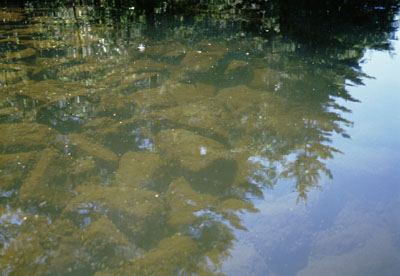 Travelled September, 2000. I live near the mighty Hudson River, not too far from where it joins the Mohawk River. The Erie Canal starts at this junction and heads west to Buffalo. The closest route to a Great Lake is along the Erie until Three Rivers Junction, then down the Oswego River. This is the route I followed.
I started in Troy, taking 7 1/2 days to canoe the 190 miles to Lake Ontario. The first section was along the Mohawk River (which the Erie Canal is coincident with), then along a section of pure canal, across Oneida Lake, and down the Oswego River.
The coolest aspect of the trip are the locks. I went through 29 different locks, all built to accomodate barges. The lockmasters were all very friendly, and perfectly happy to lock through a small canoe. I camped along the way, often staying at a lock or other canal area.
Part of my journal is on-line.
---
| | |
| --- | --- |
| | Black Canyon of the Gunnison National Park |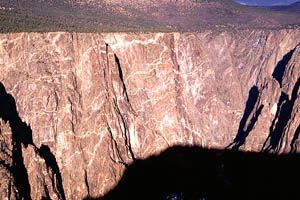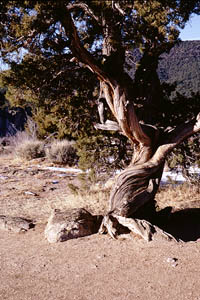 Visited November, 1999. Black Canyon of the Gunnison National Park contains a long deep canyon with impressive walls. This includes a 2,200 foot tall cliff called the Painted Wall. This is a superb example of an intrusive rock formation.
My visit to the park was very brief. There are hiking trails along both rims of the canyon, but my brother and I only went on the south rim. The snow was deep enough to make footing somewhat slippery.
There are many short trails each leading to a different vantage of the canyon. Toward the western end of the south rim, the vista opens up to a broad valley which is an excellent contrast to the narrow canyon.
---
| | |
| --- | --- |
| | Wrangell-St. Elias National Park |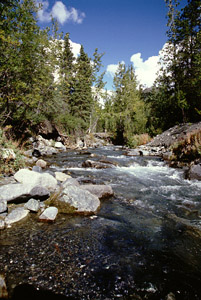 Visited late August to early September, 1999. Wrangell-St. Elias National Park is a large expanse of mountains, glaciers, and valleys located in eastern Alaska. No less than four mountain range run through the park, making the scenery some of the most majestic that I have seen. There are shallow bogs full of sphagnum moss with pools of open water that reflect the suroundings perfectly. There are silty glacial rivers winding through broad gravel valleys. Vegetation is comparatively lush for Alaska, and rabbits and other small animals abound.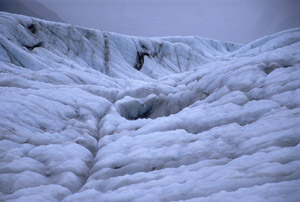 I hiked up Strelna Creek to Dixie Pass. Although technically trailless, the route was fairly obvious, and the footing easy. Strelna Creek passes through a small canyon, where one must wade or climb around. Dixie Pass is quite steep and provides vistas of ice patches and distant glaciers.
There is an old copper mining town, Kennecott, which has numerous old buildings in various states of disrepair. This was well worth a visit. There are separation tables, ammonia vats, old rail lines, aged bunker-fuel generators, a bunkhouse whose basement is full of silt, old tramway wires, and trim-but-collapsing houses and out buildings.
There is no shortage of glaciers in the Park. I spent a very rainy day trekking on the Root Glacier, which was fun but tiring. The Park is home to the largest sub-polar ice field (which I didn't visit).
Part of my journal is on-line.
---
| | |
| --- | --- |
| | Guadalupe Mountains National Park |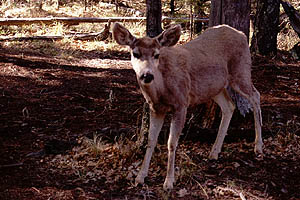 Visited late April, 1998. Guadalupe Mountains National Park is located in western Texas, and contains the highest peak in that state. It is a area bounded on one side by the New Mexico border and on the other by a highway. The park encompasses the southern end of the Guadalupe Mountains, the northern end of which includes Carlsbad Caverns. Further south is a alkaline salt flats (complete desolation). Low lying scrub leaps up steep sandy slopes filled with mesquite and creosote. Above the sharp incline are peaceful groves of pines.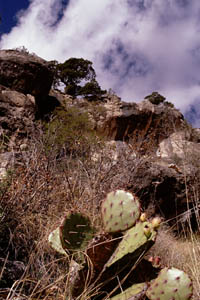 There is virtually no surface water in the park, which means that one must carry all the water one needs for everything. In the dry desert air, this is a gallon a day, which discourages hikers and limits the length of one's trip. The first day I was at the park I climbed Guadalupe Peak, which was pleasant and easy. Snow flurries pleased me on the way up, but I still felt my skin scorching under the sun. The next two days I did a wide loop hike, spending one night at the Tejas Campsite. A herd of deer wandered through my camp both in the evening and the morning.
Another stop of note was an easy hike along McKittrick Canyon, which has some of the only surface water in the park and a pleasant cool picnic area near the Grotto (an open cave with blunt stalgtites and stalacmites). This trail passes old ranch buildings. In addition to the ubiquitous mule deer, I also espied many interesting insects.
Delightfully, on the north side of the park is an area known as Dog Canyon. One must drive quite some distance to go between the south side of the park and the north, but it is well worth it. I watched turkey vultures roosting, hiked up the other end of the Tejas Trail, photographed deer, and had the campground all to myself.
---
| | |
| --- | --- |
| | Isle Royale National Park |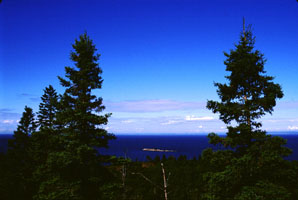 Visited early September, 1997. Isle Royale National Park lies in the northern part of Lake Superior, and is part of the state of Michigan. The Island is 45 miles long, and has received much attention for the wolves and moose that live there.
A wilderness park, wildlife abounds. Being an island, the number of species is limited compared to the mainland, but I saw moose, foxes, hares, loons, mergansers, a heron, other birds, fish (various), snails, turtles, leeches, grasshoppers, caterpillars, and lots more. The wolves could be heard barking and howling.
Of all the parks in the contiguous 48 states, Isle Royale has the longest average visit. This is partly due to its remoteness (one can take a 6 1/2 hour ship ride to the park), and partly that there are no spectacles such as geysers, only fantasticly pretty forests and lakes.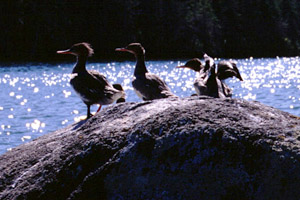 I spent eight nights on the Island, backpacking for the most part, with an afternoon of canoeing near the end. The Island has a number of trails along it, with campsites dotted here and there. I first hiked down the Greenstone Ridge, a central ridge which runs the length of the Island. My walk then took me back and forth from the north shore to the south shore. Lake Superior is BIG (and drinkable). There are little lakes (some several miles in length and have their own islands) within the Island, beuatifully nestled between birch forests. My hike visited several of these lakes, plus lookouts, and forests. Part of my journal is on-line.
---
| | |
| --- | --- |
| | Katmai National Park |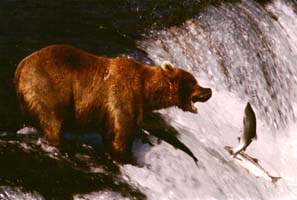 Visited early July, 1996. Katmai National Park is located about 250 miles WSW of Anchorage Alaska. There are no roads leading to the park. The park is famed for its bears, its salmon, and its volcanoes.
There are bears everywhere, especially at Brooks Falls, as shown to the left. The first four days, I stayed near Brooks Camp, where I watched the bears. I saw bears sleeping, fishing, eating, fighting, killing, mating, running, standing, swimming, charging, clawing, and lots of other aggressive activities.
A lot of people come to Katmai to fish for sockeye salmon. It's mostly catch-and-release fishing. No fishing for me, though I did itch to go canoeing in the fine lakes and rivers.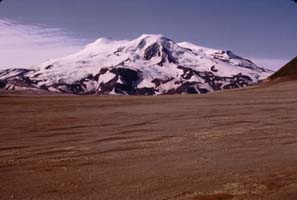 I did a two night hike in the Valley of 10,000 Smokes. The Valley was formed when Mount Katmai erupted on June 6, 1912, belching 6 cubic miles of ash into the air. There are still 60 square miles of ground which, while no longer smoking, still do not support any vegetation. My hike was back into this valley to a ash-laden lake at the base of Mount Mageik (see photo of Mount Mageik, left, and panorama from Mageik Lake, below). You can read my trip journal of this hike.

---
| | |
| --- | --- |
| | Mount Rainier National Park |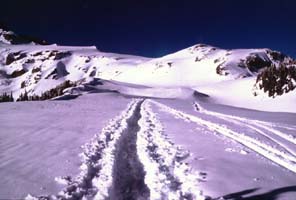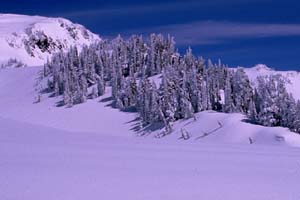 Visited 13 April, 1996. Mount Rainier National Park is a few hours south of Seattle, Washington. This was not an "official" park visit by my standards, as I was only there for a day.
I had travelled to Seattle to enact some business with Boeing. In addition to work, I joined some members of the Boeing Alpine Club on a day hike partway up Mount Rainier (many thanks to Chuck). Mount Rainier is big, 14,400 feet, and steep, average grade 25%. We started at Paradise and hiked toward Camp Muir. Unfortunately, 18 inches of newly fallen snow kept the park roads closed until late morning, which delayed our start. We (there were 8 of us) were the first group up the mountain, which meant that we got to pack down a path through the snow (see photo). Due to the late start and the tough conditions, we didn't get all the way to Camp Muir. Still, it was positively gorgeous, at least viewed through my borrowed glacier goggles.
---
| | |
| --- | --- |
| | Hot Springs National Park |
Visited Late August, 1995. Hot Springs National Park is the smallest of the scenic parks. It also is the only one which is located in a city, Hot Springs, Arkansas. It consists of 47 mineral hot springs coming out of Hot Springs "mountain". Unfortunately, all but two of these springs are covered over and piped into a central collection and distribution network. The water is used for drinking and bathing, and it tastes pretty good (it's unusual for me to think mineral water tastes good). The other two springs come steaming out of the ground and collect in small pools.
The park has several old bath facilities which one can tour. These are pretty interesting, with odd plumbing and cool statues of Ponce de Leon. Fountains with hot water are quite bizarre, but it does make manufacturing tea much easier.
As far as hiking goes, though, there really isn't very much. I hiked along a trail running from Music Mountain to the National Park campground. It was terribly hot (103 degrees F), but the terrain was very very easy. Unless one knows a lot about plumbing or history, I think it would be difficult to spend an entire week here.
---
| | |
| --- | --- |
| | Bryce Canyon National Park |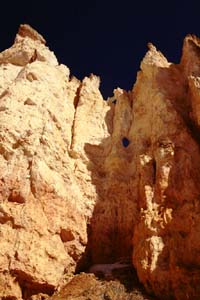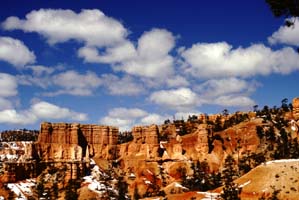 Visited late April, 1995. Bryce Canyon National Park is located in southern Utah. It is not actually a canyon, but a series of wind-carved amphitheaters. The best word to describe Bryce is fantastic. While hiking through the weird sandstone hoodoos (spires), one is continually beset by a feeling of unreality.
In addition to many day hikes, I did a two night hike on the Under-The-Rim Trail. The first night I camped on top of two feet of snow (the snowshoes being terribly necessary). The second night I had hiked north, dropping a few thousand feet in elevation. Here I was camped in a desert area and worried about water. This was at a site known as "Yellow Creek". The creek mentioned was so laden with sandstone silt as to be unusable for water. This silt also gave it a dark brown color. The silt was very fine and didn't even settle out over night. In the morning, the ground had frozen and the silt had all washed down stream. The once-brown creek was now crystal clear. When the sun came up, it turned back to a dark brown within minutes. Wow.
One of my strongest memories of Bryce is the clear air, which is some of the cleanest in the world. At night I could discern the different constellations without my glasses. Of other note are the numerous balanced rocks, especially an area known as The Hat Shop. This is a series of small sandstone pillars with larger white capstones on top of them.
---
| | |
| --- | --- |
| | Denali National Park |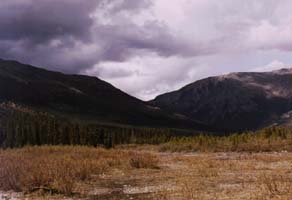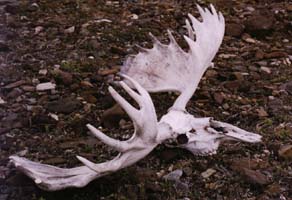 Visited early June, 1994. Denali National Park is located around 240 miles north of Anchorage, Alaska. The park is close to the size of Massachusetts, and is best known for its former namesake, Mount McKinley. It has numerous glacially carved valleys filled with cold rivers and scrub willow.
My trip was not to the highest mountain in North America. At least at the time, I was not up to such a thing. I took many day hikes, plus spent two nights hiking up the Sanctuary River valley (see left photo). Denali is very open, with most vegetation only ankle or shin deep. At times one can hike on the natural gravel river bars, which make for fast going. At other times, these are unavailable unless one crosses the river (no thanks, not solo), and then the going is slow and tough. Both nights out, I camped on a flat gravel area. About 100 yards from my tent was a moose skeleton.
Wildlife abounds in Denali, including moose, caribou, Dahl sheep, and grizzly bears. Plus wolves, but I didn't see any of them in person. I did see a fox, hoary marmots (I don't care if it's a hairy varmit. What's it called?), pika, and ground squirrels (a favorite snack for the bears). I heartily recommend a walk down the Savage River, both to see the wildlife and also to see the difference between a glacially formed valley and a water formed valley.
---
| | |
| --- | --- |
| | Mammoth Cave National Park |
Visited Late January, 1994. Mammoth Cave National Park is located 30 miles north of Bowling Green, Kentucky. Aside from the cave (all 340 miles of it), the park also has some fine walking trails, which, while not technical in the least, are very pleasant. The cave is huge. One could drive a tractor-trailer for about 18 miles down the main passage.
I went on all the tours they had, which the guide stated were "strenuous". While the tours were very interesting, I get more tired doing thirty pushups. The ranger's knew a lot about the cave and the geology which made the tour much more interesting, since they could answer my questions. Unfortunately, one can't wander off into the cave except for the tours unless one is a member of a Kentucky caving society.
In addition to wandering through the vast caverns, I walked along perhaps 30 miles of the surface trails. There was a little bit of snow on the ground, and the trails were not blazed for inclement conditions. They also get amazingly little use, despite the hordes of people visiting the cave.
---
| | |
| --- | --- |
| | Grand Canyon National Park |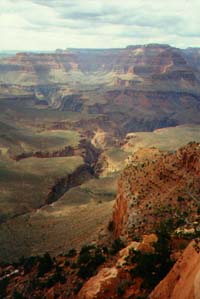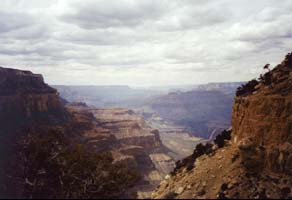 Visited mid March, 1993. Grand Canyon National Park is located in northern Arizona. The first sight of the Grand Canyon is the one you've seen a thousand times in books and on television. The response is something like, "Yep, that's the Grand Canyon". Then it hits you. It's big. Huge. A mile deep and ten or more across.
I only did day hikes in the Canyon. One day I hiked down to the mighty Colorado River and back. There are lots of signs warning that this is a bad idea in the summer. Even in March I barely had enough water, but it was well worth the hike. The upper part of the Canyon is very broad and comparatively shallow. The lower part is much narrower with steep walls. Some of the exposed rock is half the age of the Earth, supposedly the oldest exposed rock anywhere.
I strongly recommend the book The Exploration of the Colorado River and Its Canyons by the explorer John Wesley Powell. His was the first group to go through the Canyon. They went by boat and had all sorts of difficulties. Powell claims the best view of the Canyon is from Point Sublime. Unfortunately, this is on the north rim of the Canyon, which was still deep with snow when I was there.
If you have a sudden urge to visit the Hoover Dam while you're at the Canyon, keep in mind that it is at least a six hour drive each way, but worth it.
---
| | |
| --- | --- |
| | Rocky Mountain National Park |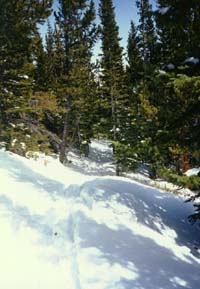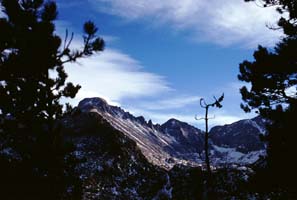 First visited March, 1992; also visited many more times. Rocky Mountain National Park is located 80 miles north of Denver, Colorado. It contains the highest paved road in the world, plus lots and lots of awe-inspiring peaks. In the late winter there is lots of snow and no visitors, while in summer the traffic is awful.
The first time I visited Rocky Mountain was in the early spring. The ten feet of snow didn't deter me from hiking, but it did prevent me from going very far. I later purchased snowshoes, which make things a lot easier. The trails are hard to find in the winter, since they are only marked about eight feet off the ground.
I frequently travel to see my brother at Thanksgiving. He lives near Denver, and we usually find somewhere to snowshoe. That early in the season, you have to go above 11,000 or 12,000 feet to find enough snow. However, in November the vast elk herds are still wandering around, sometimes creating traffic problems. Someday I'll arrive with enough time to hike up to the Continental Divide, probably up Flattop Mountain.
---
| | |
| --- | --- |
| | Everglades National Park |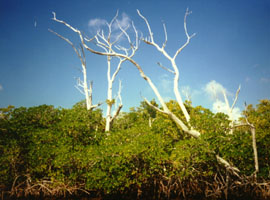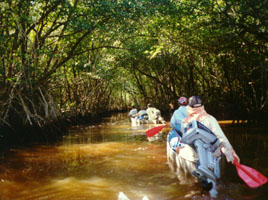 Visited early January, 1988. Everglades National Park is located in southern Florida. It consists of low lying islands made up of mangrove trees, slow rivers, and the shore line on the Gulf of Mexico. Wildlife includes alligators, dolphins, manatee, lots of fish, crabs, and far too many insects.
I spent a week canoeing with 10 other people. We travelled through various bays and rivers and also on the Gulf of Mexico. At night we pitched tents on chickees (raised platforms). We dined on black-tipped shark, snook, small blue crabs, and sea trout. While in the gulf, dolphins swam alongside our canoes, leaped over us, and generally cavorted.
---
| | |
| --- | --- |
| | Acadia National Park |
First visited sometime in 1987, I think; visited many times since. Acadia National Park is located on the coast of Maine. In addition to having a fjord, Acadia has a surprising amount of wildlife considering the number of tourists. There is a wonderful set of old carriage roads, originally laid down by Rockefeller, plus some small but neat mountains.
I have done short hikes and lots of walks in Acadia. There is a neat rock garden somewhere along the coast, a lighthouse you can tour, misty cliffs you can climb, and booming surf caused by cavities in the shore line.
---
| | |
| --- | --- |
| | Adirondacks State Park |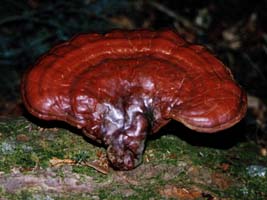 Visited countless times on the weekends. The Adirondack State Park is in upstate New York, and is one of the largest state parks in the country. It consists of the Adirondack Mountains, innumerable lakes and ponds, and large stretches of woodlands. Although it begins but a hour's drive north of my home, I generally go to the High Peaks region, which is twice as far. This area contains all 46 of the peaks above 4000 feet, some of which are strenuous climbs. It also contains the town of Lake Placid (actually on Mirror Lake), two time home of the winter olympics.
Some of the mountains stand almost by themselves, such as Giant Mountain (left photo). Others form long ranges, such as Gothics, Armstrong, and the Wolf Jaws. Plants abound, ranging from the spring trillium to various mushrooms. In the winter, I often see lynx tracks while snowshoeing. I often go hiking or snowshoeing with my friend Zach. He also introduced me to cross country skiing.
---
| | |
| --- | --- |
| | Long Trail |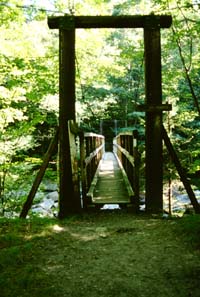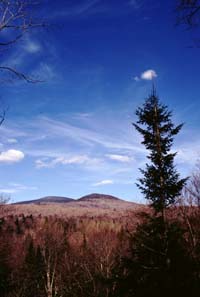 Visited countless times on the weekends. The Long Trail runs through Vermont, from the Massachusetts border to Canada. It is roughly 268 miles long, and crosses over Vermont's tallest mountains, including Mount Mansfield and Mount Killington. The southern 101 miles are coincident with part of the Appalachian Trail, which was inspired by the Long Trail. There are many shelters along the trail, eliminating the need for a tent if a hike is planned properly.
As of May 1999, I have hiked the entire Long Trail, all in bits and pieces. I have also hiked all of the Appalachian Trail from partway through New York to partway through New Hampshire. The trail gets a lot of use, so it isn't as tough as some of the remote National Parks. For instance, there are suspension bridges over some of the major rivers (see left photo of Big Branch Suspension Bridge). However, there is plenty of solitude in the winter, when it is a rare occurrence that I meet another person on snowshoes.
The Appalachian Trail has a culture all its own. You can meet people who have travelled either from Springer Mountain in Georgia or Mount Katahdin in Maine. They almost always have interesting stories and interesting trail names. The Long Trail shares in this culture, and I have spent many an evening talking with fellow hikers.
---
Return to Manthey Central, Orbital Central, or the Site Map.